IOTA's price has been experiencing quite a wild ride throughout the last month or so. The monthly highs were set around July 5th, when one MIOTA went of $1,24 USD/18514 satoshi. Since then it has mostly been a downwards road for the currency, as the price kept bleeding until it reached the monthly lows of $0,96 USD/11742 satoshi. This run threatened to continue on into August, as the price took a steep dive on August 3rd to reach levels of $0,78 USD/10682 satoshi. This is where the coin experienced a strong break-out, pumping hard towards $0,96 USD (now worth 13183 satoshi due to Bitcoin's USD value dropping) before stabilizing somewhat in the short term. One MIOTA is currently priced at $0.874604 USD (3.81% drop in the last 24 hours)/ 0.00012617 BTC (3.32% drop in the same timeframe). IOTA is currently the world's 10th most valuable crypto project with a market cap of $2,625,554,514 USD.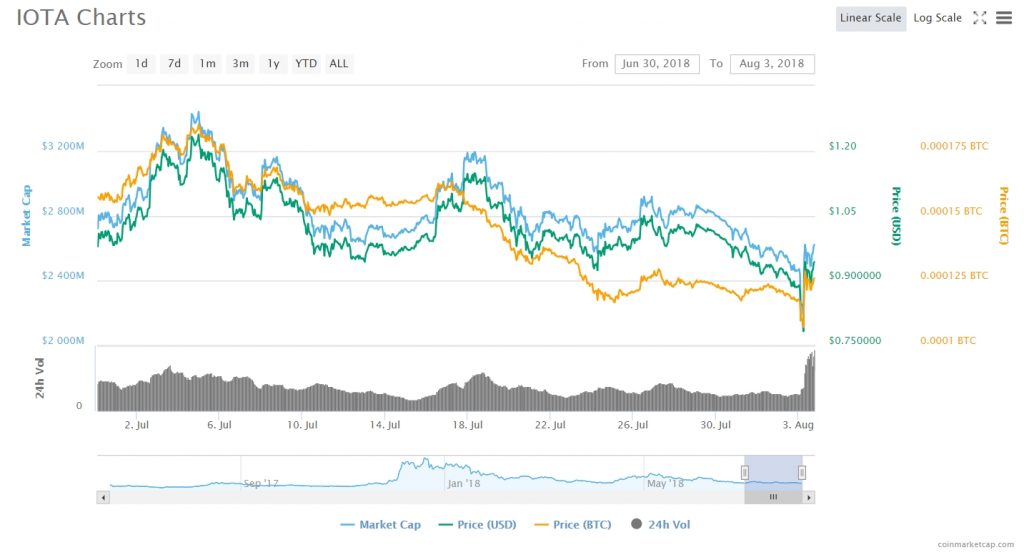 WMarcosChoqueRojas from TradingView noticed an interesting, rarely seen pattern forming on the IOTA chart, a so-called "butterfly pattern". He feels that IOTA is currently a decent mid/long term investment, one that will bring its holders solid gains once the alt season starts.
The latest price/volume boost that IOTA experienced probably had most to do with its listing on the Upbit exchange. This Korean platform recently listed the IOTA/KRW trading pair which led to a 20% jump in the coin's price. The community, while happy that their coin is rising, remained somewhat grounded.
"I would call these few pump spikes fun to watch, as the one on huobi, but far from interesting in the long run. Wait until qubic is out, network is stable, we have a desktop wallet and mobile wallet out of beta and several other more interesting things coming from the community," said a Reddit user named dealern.
Another important element of the equation has most certainly been the introduction of the IOTA Hub. The Hub offers a standardized, open-source solution to issues regarding seed management, no double signing due to database constraints, reattachment/repromotion of bundles, confirmation monitoring and deposit address monitoring. It utilizes a simple gRPC API in a hardened and audited environment. The Hub is expected to become a part of every exchange/platform that provides IOTA transaction services; project's full Github documentation is expected to be deposited shortly.
-
Other developments haven't been lacking either. IOTA Reference Implementation 1.5.3 was released just a couple of days ago, looking to fix the "blowball" problem, a common occurrence in IOTA transaction validation. As of now, many people are still using the old IRI versions, meaning that blowballs will still happen sporadically, but the frequency of these should reduce over time.
Click to here read the full article...